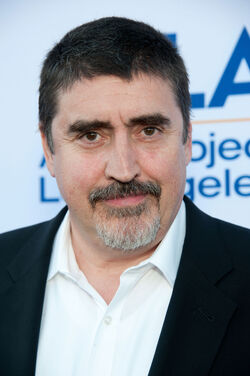 Alfred Molina (born Alfredo Molina; 24 May 1953) is an English actor, known for his roles in Raiders of the Lost Ark, Prick Up Your Ears, Boogie Nights, The Man Who Knew Too Little, Spider-Man 2, Maverick, Species, Not Without My Daughter, Chocolat, Frida, Steamboy, The Hoax, Prince of Persia: The Sands of Time, The Da Vinci Code, The Little Traitor, An Education, The Sorcerer's Apprentice and Rango.
Alfred is the voice of Rippen.
Early life
Molina was born in Paddington, London. His mother, Giovanna (née Bonelli), was an Italian house-keeper who cleaned rooms in a hotel and worked as a cook. His father, Esteban Molina, was a Spanish immigrant from Madrid who worked as a waiter and chauffeur. Molina grew up in a working class district in Notting Hill that was inhabited by many other immigrant families. He decided to become an actor after seeing Spartacus at the age of nine, and attended the Guildhall School of Music and Drama.
External links