"Sash, check the specs."
This article is a stub. You can help the Penn Zero: Part-Time Hero Wiki by expanding it.
"Phyllis, what's with the pitch-black abyss of nothingness?"
Sadly, this page is lacking in images and/or a gallery!
Alien World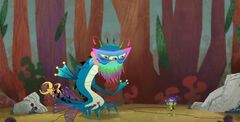 Alien World
is a dimension on an alien planet. It is featured in "
That Purple Girl
".
Mission
First Mission (That Purple Girl)
The team must help the lost alien princess of the Purple People of the East escape the land of the evil Orange Kronad tribe and return to her home.
Second Mission (That Purple Guy)
The team must help the princess and Grinkon see that they are true love and go through the wedding because when they kiss, the power of their love will protect the village from annihilation.
Inhabitants
Giant flying blue alien (replaced by Sashi)
Alien birds
Locations
Territory of the Kronad tribe: A forest under the Kronad's control.
Purple People village: The home of the Purple People.
Sightings
Trivia
The world is similar to the alien world from the film Avatar.
Penn in Alien World appears in the theme song.
A brief shot of Alien World appears during the montage of Penn and team removing vortexes in "Save the Worlds".
The Death Eater and a Purple People alien appear in Outer Space Court World.
v

•

e

•

d

Penn Zero: Part-Time Hero Places and Dimensions