"Sash, check the specs."
This article is a stub. You can help the Penn Zero: Part-Time Hero Wiki by expanding it.
Dinosaur Cowboy World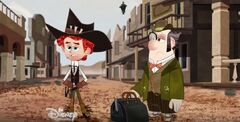 Dinosaur Cowboy World is a dimension with cowboys in the desert riding dinosaurs. It appears in "The Old Old West" and "Amber".
Mission
Mission One ("The Old Old West")
The team must stop bandits Rippen and Larry from stealing the townspeople's live savings from the bank in Big Butte and making it across the border.
Mission Two ("Amber")
The team must save all the cow-o-saurs in Big Butte.
Inhabitants
Cowboy (replaced by Penn)
Doctor (replaced by Boone)
Southern Belle (replaced by Sashi)
Two bandits (replaced by Rippen and Larry)
Madge
Big Butte residents
Dinosaurs
Locations
Big Butte: a western town in the desert.
Trivia
Boone, zapped into a doctor, has a bag of leeches, though leeches weren't being used very often anymore during western times.
Penn and Boone often laugh at the name of the Big Butte, believing it is pronounced as "big butt."
v

•

e

•

d

Penn Zero: Part-Time Hero Places and Dimensions