"Sash, check the specs."
This article is a stub. You can help the Penn Zero: Part-Time Hero Wiki by expanding it.
George Kobayashi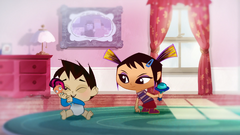 George (left) with Sashi in a flashback
Character Information
Species:
Human
Gender:
Male
Occupation:
Member of the Horticulture club
Residence:
Middleburg
George Kobayashi (小林ジョージ Kobayashi Jōji) or (小林乗児 Kobayashi Jōji) is Sashi's younger brother.[1] Though he briefly appeared in a flashback in "Baby-Pocalypse", he has yet to make an appearance in the present.
Trivia
George is a member of the Horticulture team and made Greenest Thumb, according to Sashi in "Flurgle Burgle". Though Sashi mentions him without saying his name, co-creator Sam Levine confirmed she was talking about George.[2]
George's parents allowed Sashi to babysit him when he was younger.
References
v

•

e

•

d

Penn Zero: Part-Time Hero Characters