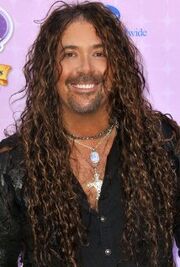 Jess Q. Harnell (born December 23, 1963) is an American voice actor and singer, best known for voicing Wakko Warner in Animaniacs and Ironhide in the Transformers film series. Harnell has been the announcer for America's Funniest Home Videos since 1998.
Jess voices a character in Penn Zero: Part-Time Hero.
Career
In 1989, Harnell provided the voices of Br'er Rabbit and Br'er Fox for the Splash Mountain attraction at Disneyland Park, reviving the roles last played in 1946 by Johnny Lee and James Baskett, respectively, in the film Song of the South. Harnell also recorded some new character dialogue for the subsequent Walt Disney World version of the attraction. He was later called in to reprise these roles for the 2011 video game Kinect Disneyland Adventures.
In 1993, he went on to voice Wakko Warner on Animaniacs and Secret Squirrel on 2 Stupid Dogs. From 1994 to 1996, he supplied the voices of Sewer Urchin, the Human Bullet and Chief Louder in the animated series The Tick.
External links