"Sash, check the specs."
This article is a stub. You can help the Penn Zero: Part-Time Hero Wiki by expanding it.
Professor Evil Professor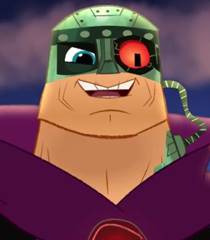 Professor Evil Professor is a supervillain in Superhero World.
Trivia
As revealed in "I'm Still Super!", Professor Evil Professor and his brother are Jewish.
He has a PH.D in Villainy.
He's been described as "diabolical as he is drop-dead handsome" by his brother.
He owns a pet turtle named Shelly.
Like his brother, his name is said in a really long, dramatic way.
He is the first character who outright tried to get someone killed on the show.
v

•

e

•

d

Penn Zero: Part-Time Hero Characters