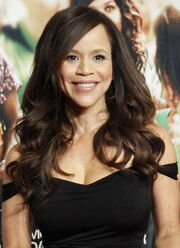 Rosa Maria "Rosie" Perez
(born September 6, 1964) is a Puerto Rican-American actress, community activist, talk show host, author, dancer, and choreographer. Her film breakthrough came in Spike Lee's
Do the Right Thing
(1989). She followed this with
White Men Can't Jump
(1992) and was later nominated for the Academy Award for Best Supporting Actress for her performance in
Fearless
(1993). She was also nominated for three Emmy Awards for her work as a choreographer on
In Living Color
.
Rosie is the voice of Aunt Rose.
Early life
Perez was born in the Bushwick neighborhood of Brooklyn, New York, to mother Lydia Perez and Ismael Serrano, a merchant marine seaman from Puerto Rico. Both of her parents, who were both from Aguadilla, Puerto Rico, were married to other people when they met -- she is the product of their affair. She was born at Greenpoint Hospital in the Williamsburg neighborhood of Brooklyn.
Perez was not raised by her parents. According to CNN: "Perez was raised primarily in a Catholic children's home Perez characterized as a convent in New York, St. Joseph's Catholic Home for Children in Peekskill, Westchester County, with regular visits to her mother and aunt. Her father tried to get custody of Perez while she was in the home, but was not successful."
Perez became a ward of the state when her mother took her from an aunt, who had been raising her. She was transferred to a group foster home at age 3 and lived in foster care until age 8, and was still legally considered a ward of the State of New York until age 12 years. She has five brothers and sisters from her mother's marriage to her mother's first husband, Ventura Perez, but also has additional half-brothers and half-sisters (a total of 10 children).
These life problems left Perez with a speech impediment. She eventually moved in with paternal aunt, Ana Dominga Otero Serrano-Roque, and attended Grover Cleveland High School, which is located in the Ridgewood neighborhood of Queens. Her mother died of AIDS-related complications in 1999.
Perez considers herself Puerto Rican and a had a strict Catholic upbringing, which she credits to the influence of the nuns during her childhood.
External links