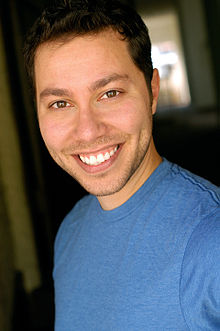 Samuel Brent Oscar Riegel also known as Sam Regal, or Jack Lingo, (born October 9, 1976) is a voice actor, writer and director who appears in cartoons, anime and video game series. He lives and works in Los Angeles, CA.
He voices a character in Penn Zero: Part-Time Hero.
Career
He voiced Donatello in the Teenage Mutant Ninja Turtles 2003 series, and Riven in the Nickelodeon series Winx Club. He began his career as a child actor in theater in Virginia, where he landed the role of Gavroche in the musical Les Misérables at the Kennedy Center. He went on to tour with the show in 26 cities across America, eventually moving to New York City to perform in Broadway and off-Broadway shows. In 1994, he graduated from the Professional Children's School on the Upper West Side of Manhattan and enrolled at the University of Virginia, where he was a member of the award-winning a cappella group The Academical Village People. After completing college, he returned to New York City to pursue his voice acting career. On September 11, 2001, he witnessed the attacks on the World Trade Center and recorded his experiences, capturing footage that was featured in several documentaries about it.
External links