"Sash, check the specs."
This article is a stub. You can help the Penn Zero: Part-Time Hero Wiki by expanding it.
The Odyssey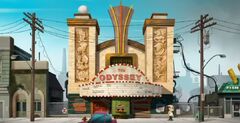 The Odyssey is an abandoned movie theater next to Fish Stick on a Stick in Middleburg that holds the Multi Universe Transprojector for the part-time heroes.
It is destroyed in At the End of the Worlds along with Fish Stick on a Stick.
Employees
Sightings
Trivia
The words on the marquee board above the entrance change depending on the mission/episode.
The Odyssey is named after the epic Greek poem by Homer about the journey home of the Greek hero Odysseus.

The two rectangular sides of the front of the Odyssey include images depicting characters and scenes from the poem

In "The Ripple Effect", Boone reveals that Phyllis gave him a key to it, explaining that Phyllis considers him the most responsible.
According to Sam Levine, Phyllis lives there, just above the lobby in the second floor.
v

•

e

•

d

Penn Zero: Part-Time Hero Places and Dimensions