Zombie World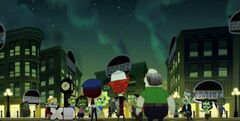 Zombie World is a dimension where a zombie uprising happens. It appears in "Brainzburgerz".
Mission
An evil food corporation creates a burger that turns people into zombies when they eat it, who then try to force others to eat the burgers. When the antidote falls into a fast food worker (Penn Zero)'s hands, he and the team must get it to a nearby military base and stop the zombies.
Inhabitants
Brainzburger employee (replaced by Penn)
Brainzburger manager (replaced by Boone)
Mall police guard (replaced by Sashi)
Military general
Samuelson
Dolphin
Military
Civilians
Locations
Double Pines Mall: a giant mall with multiple stores inside

Brainzburgerz: a fast food restaurant.

Military base
Trivia
Double Pines Mall is a reference to the Twin Pines Mall in the film Back to the Future.
v

•

e

•

d

Penn Zero: Part-Time Hero Places and Dimensions